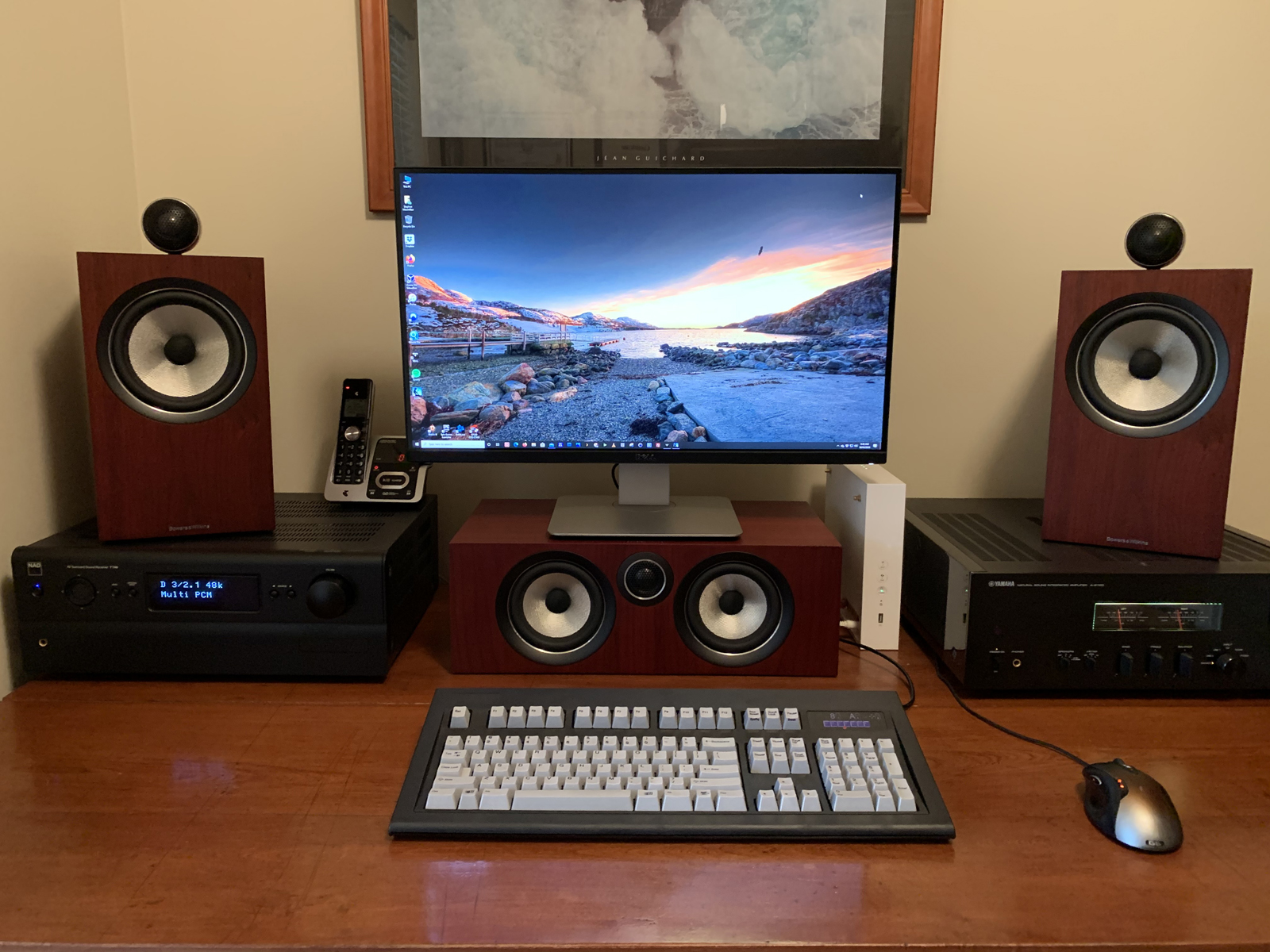 Overview:
Working in the IT industry, I spent a fair bit of time in my Study working remotely. To provide surround sound I have a NAD T478 5.1 channel AV receiver powering B&W 700 S2 series speakers and an SVS SB200 subwoofer. This provides very for sound for occasional gaming.
Most of my time while working I listen to music. To acheive this I have Tidal installed on the PC. I use HDMI out of the PC's video card to the NAD C510 DAC. This is an outstanding DAC and one of the few that can take a HDMI input. From the DAC the output is feed into the Yamaha AS-1100 stereo amp. If you get a chance, try a dedicated stereo amplifier for two channel stereo listening. The NAD T748 is known as a musical AV receiver, but the Yamaha AS-1100 stereo amp blows it out of the water in terms of sound quality.
The Yamaha AS-1100 has a home threatre bypass mode. This allows it to act as a power amplifier for the NAD T748 running the left and right speakers when in 5.1 mode, or as a stand anlone two channel stereo being feed from the NAD C510 DAC.
When I have to keep the volume down, the NAD C510 DAC feeds it output to the Sennheiser HDVD800 headphone amplifier. I then use the Sennheiser HD800S headphones to listen. These are outstanding headphones. Some consider them the best open back headphones you can buy a the moment. The openness and detail of the sound is amazing.
Specs:
NAD T748 AV Receiver

B&W 705 S2 Bookshelf / 700 series centre / M1 surround speakers / SVS SB2000 subwoofer

Yamaha AS-1100 stereo amplifer with home threatre bypass

NAD C510 DAC

Sennheiser HDVD800 headphone amplifier

Sennheiser HD800S headphones